Is There Water on the Moon?

With guest Dr. Dana Mackenzie, we explore
NASA's newest discoveries: Are lunar
spa resorts in our future?
And discuss digital astroimaging with
Michael Barber of SBIG
Click here for Broadcast

Image #1

Dust cloud (circled in red) rising 20 seconds
after impact of Centaur rocket.

Image #2

Full Moon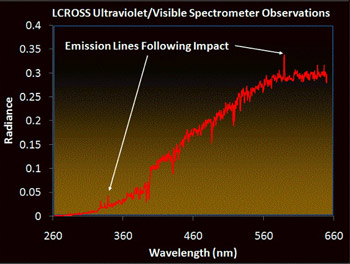 Image #3
Spectragraph showing water vapor in ejected dust. Every element and molecule has unique spectral lines, like a fingerprint.