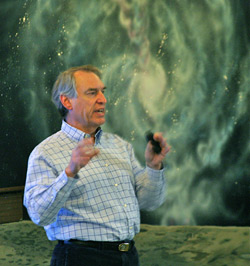 Joan and I will be busy with 13 appearances in the Los Angeles area in the next 3 weeks. For those who would like to attend, but live too far away, the talks will be available on DVD.
The events listed below are open to the public with little or no charge, except as noted:
1) Monday, March 14, 7:45pm
Los Angeles Astronomical Society at the Griffith Observatory
2) Thursday, March 17, 11:30 am
Westlake Village Republican Women Federated (WVRWF)
Westlake Inn in Westlake Village
Admission $30/person for lunch. Email me by 3/15 for reservation.
3) Thursday, March 17, 7pm
South Bay Amateur Radio Club
Torrance Medical Center, 3330 Lomita Blvd., Torrance
4) Friday, March 18, 7:15pm
Ventura County Astronomical Society
Mesa Union school, 3901 North Mesa School Road, Somis
5) Saturday, March 19, 7:30pm
Riverside Astronomical Society
Cossentine Hall, La Sierra University, 4700 Pierce St.
6) Monday, March 21, 8pm
B'nai B'rith at Temple Adat Elohim, 2420 E. Hillcrest Drive, Thousand Oaks
7) Sunday, March 27, 5:30pm
STARS fundraiser for neurological diseases
Admission is $75/person for dinner and donation.
Call Sharon at 310.471.1024 for reservation.